Belmont Vinyl Signs
View Vinyl Sign Gallery
Speaking about flexibility and versatility, vinyl is the signage material that impresses the experts most in the sign-making industry. With many application methods and style options, vinyl is utilized by almost every type of business and organization.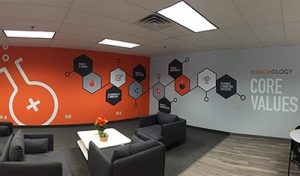 Axe Signs & Wayfinding manufactures Belmont vinyl signs that can be specifically tailored as window, wall, or floor graphics. If you want to know your full set of vinyl sign options, we will gladly guide you through our wide selection of vinyl types, colors, finishes, and weights. We can even provide expert recommendations if you need help choosing which option will work best for your business needs.
Whether you want aesthetically pleasing and informative indoor signs or captivating promotional outdoor signs, vinyl signs can be designed to effectively build your brand and increase your traffic and average ticket. Axe Signs & Wayfinding can help you with a signage plan that will maximize your spaces and assets for marketing purposes—storefront, walls, windows, floors, and any other available space worth utilizing.
Even if you're unsure what type of vinyl to purchase, our signage experts can give you appropriate suggestions as we listen to and understand your business needs. Not long after, you can then have the vinyl signs that will provide you with an attractive storefront, a comfortable and captivating interior for your customers, and an efficient workplace for your staff.
Call Axe Signs & Wayfinding at (650) 405-3953 for your Free Consultation!
Promotional Vinyl Banners
As businesses aim to promote their products and celebrate corporate milestones in a cost-effective yet attractive way, banners became the most popular vinyl product in the signage industry.
Made from durable vinyl material, Axe Signs & Wayfinding provides vinyl banners that can be availed in different sizes, weights, and display options. We can customize your banners in any way you need. Whether you want to support your sales staff during a tradeshow, promote a new product, or announce a new branch opening, our vinyl banners are guaranteed to be functionally designed.
We understand how important your business goals are, so our team will do everything with precision in a timely manner. We will provide you with the best vinyl banner that comes complete with all its accessories and equipment for proper and secure installation.
Window Vinyl Clings & Film
Although not as popular as banners, vinyl clings and films are useful for many businesses. Intended to be put on windows and glass, Axe Signs & Wayfinding provides vinyl graphics for promotional and privacy purposes, among many others.
If you have new business offerings or special events, you can promote them by utilizing your window space with vinyl clings and films. Axe Signs & Wayfinding can help you create a professional design that will make your windows visually appealing and extra useful.
Your promotional window displays may include individually cut vinyl elements that use either temporary sticky glue or static-cling adhesions. These elements are easily removed, making them ideal for seasonal promotions and multiple applications, given that you properly store them.
If your business is more on service offerings, window films can be useful to provide privacy for your offices. Even restaurants can use these privacy benefits to give their clients an intimate setting in higher-end rooms. There is no limit. If you own or manage a business that couldn't accommodate the permanence of frosted or etched glass panes—either due to financial issues or lease agreements—window films are yours to customize and utilize.
For an attractive and high-end look, window clings and films are available in various textures and styles that are highly customizable to showcase your logo, business message, or any other information you fancy displaying.
Cut Vinyl Lettering
If you want a low-cost way to make a great first impression, cut vinyl letterings might just be the best vinyl material for you. You can use them to display important business information while building your professionalism and brand at the same time.
With cut vinyl lettering, you can use them on your door and let your customers know certain information even before they enter your facility. Business hours, licenses, and contact details are just some of the information you can utilize vinyl letterings for.
Even better, they are great brand-building tools that will elevate your storefront's appeal as well.
Wall Murals & Floor Graphics
When it comes to marketing, Axe Signs & Wayfinding believes you can't just limit your efforts on your storefront, windows, and doors. You need to maximize every appropriate area in your facility as well. Your walls and flooring are two spaces you should look into.
Axe Signs & Wayfinding creates vinyl graphics and large format murals applicable to just about any smooth surface in your establishment. They are perfect to uplift the aesthetics in your place while reinforcing your brand, promoting your products or services, and providing passive assistance for your customers and staff with informational or wayfinding graphics.
We make our wall mural out of top-grade vinyl material matched with a professional design that sticks to your branding elements and specific preferences. This will guarantee you an eye-catching interior that will make your customers more compelled to come back. Axe Signs & Wayfinding can help you identify which space is best to utilize for these graphics, ensuring that you maximize your marketing opportunity.
Aside from your walls, floors can also be a great place to display your logo or other brand building and wayfinding elements. We can provide you with aesthetically pleasing floor graphics that are durable and applicable to practically every flooring material—wood, concrete, tile, and carpet.
Vinyl Graphics Options
Axe Signs & Wayfinding offers Belmont vinyl signs that are applicable for any business goal. There are a lot of different products that you can choose from to ensure the utmost effectiveness for the purpose you have in mind. If in doubt, our experts can help you choose what color, finish, weight, and application method of vinyl signs is best for your business need, location, and budget.
With our free consultations, you can expect our team to listen to your goals and preferences attentively. From there, we can provide you with the most appropriate vinyl options together with some product samples that will give you a specific idea of what every product will actually look like.
Some of our most popular vinyl signs and graphics are the following:
Regardless of what goal you want your business to reach, Axe Signs & Wayfinding can customize any vinyl sign or graphic you need. Banners, letterings, murals, we can create them in any size or design that fits you best. Rest assured, we have the best vinyl signage solution for your every business need.
Full-Service Vinyl Graphic Shop
If you're looking for Belmont vinyl signs that are guaranteed to be high-quality and deliverable within a quick turnaround time, Axe Signs & Wayfinding is the best provider you can ever work with.
Our teams are divided to handle specific steps in the entire sign-making process, ensuring that only experts will perform each of them and secure the quality of your final vinyl product. For an efficient process, we start ours with a free consultation where we strive to understand your business status, goals, and needs. This is our way to develop an effective signage plan and design that will demand lesser time for changes and adjustments later in the process.
We have a professional design team that will create an eye-catching design while keeping your branding elements and business goals in mind. The initial design will undergo your approval, open for all the changes you may want to impose. After the design is finalized, your vinyl sign and graphic will then be fabricated in our shop by our expert manufacturing team.
Our fabrication process is quick yet precise. We ensure that the material we'll use is up to your standards and durable enough to withstand the conditions in its designated place. We also put our efforts into utilizing environment-friendly manufacturing methods as much as possible, enabling you to save money either upfront or in the long run—probably even both.
Finally, once all is set, our installation team will secure a smooth application of your chosen vinyl signs or graphics. We guarantee that no misalignment of signage or bubbling of graphics can be seen, leaving nothing but an attractive vinyl product that will boost your traffic and average sales.
Free Vinyl Signs & Graphics Consultation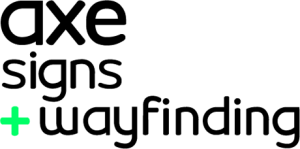 For any business needs, Axe Signs & Wayfinding is ready to provide you with Belmont, CA vinyl signs that you can customize any way you want. From advertising banners, privacy films to information letterings, we have all the vinyl products to help you reach your goals.
If you're unsure what product to get or which design to go for, our vinyl sign experts are always here to help you. We can even help you determine which area in your facility can still be utilized for marketing, brand-building, and wayfinding purposes. All you have to do is pick up that phone and start planning your vinyl signage with us.
Call Axe Signs & Wayfinding at (650) 405-3953 for your Free Consultation!