San Mateo Lighted Signs
Every business needs enhanced visibility to secure success. If you're looking to maximize yours, installing our San Mateo lighted signs can be an excellent place to start. They will boost your visibility and make it easier for your potential customers to find and visit you, regardless of the time of day and the number of your surrounding competitors.
Axe Signs & Wayfinding has been providing illuminated signs for a long time now as the best signage solution for those looking to improve their storefront's attractiveness. With our craftsmanship and top-grade signage materials, you are guaranteed that our lighted signs are as cost-efficient as they are highly visible and effective marketing tools.
Our team is comprised of signage professionals specializing in the various fields of designing, manufacturing, and installing signage. We offer all kinds of lighted signs and can illuminate your existing traditional signage as well. Regardless of what you need, rest assured that we can meet your expectations without going beyond your budget.
From LED signs made of flexible tubes to digital message centers that you can update anytime, Axe Signs & Wayfinding can provide you with the best San Mateo, CA lighted signs in the most efficient way possible.
Call Axe Signs & Wayfinding today at (650) 405-3953 for your Free Consultation with a San Mateo Lighted Sign Specialist!

Traditional Neon Signs
The classic charm of neon signs has benefited businesses since the 1900s. Even in today's modern market, their brightness can still attract tons of your potential customers. They never fail to elevate an establishment's visibility, leading to more business transactions, making them a great marketing tool suitable for all-night use.
Neon signs are not only attractive but versatile as well. Their neon-filled glass tubes are so flexible that you can use them for any advertising purposes, bending and shaping them into the letters, symbols, numbers, and logos that you need. Also, they are safe during brownouts and even power surges.
Unfortunately, the cost of purchasing and maintaining neon signs is discouraging many business owners. If you don't want the expense as well but would still want to replicate the classic neon charm if you have the chance, Axe Signs & Wayfinding can install LED signs on your building instead!

Lighted LED Signs
When it comes to neon sign alternatives, LED signs are by far the best San Mateo lighted signs that you can find. They are cheaper to purchase and consume less energy compared to neon as well. More importantly, LED signs also have superior performance than other illuminated signs.
Even though they are brightest during night hours, LED signs stay highly visible during daylight. This is way better compared to neon, whose lights blend with sunlight instead. Needless to say, LED lighting is the one you should go for if you want to keep your storefront eye-catching 24/7.
You can purchase LED signs in the form of thin polymer tubes that you can bend into any shape of your liking (e.g., letters, numbers, symbols, images, logo). These tubes don't occupy a lot of space which makes them easy to install. Their inability to generate heat also makes them safe to be installed in lower places.
You can also have LED signs as cabinet signs, channel letters, or any other traditional signage illuminated with LED lighting. This way, you can maintain your professional look while giving your visibility an extra boost and attractiveness with either mono- or multi-colored lights.

Indoor Lighted Signs
Lighted signs can't only be used for inviting more customers from the outside. They can also be a great addition to your interior signs for various purposes, including advertising, branding, wayfinding, and internal communication.
Indoor lighted signs can be used as lobby signs to impress your guests with a professional look that will set the tone of their customer experience. You can also choose to use them as wayfinding tools, giving passive assistance to your visitors by labeling various stations or rooms inside your building.
Also, indoor illuminated signs can serve as better menu boards and advertising or branding posters. They can make your special offers more attractive to every customer and provide relevant business information to your staff and visitors.
The bottom line is that lighted signs can always help improve your bottom line regardless of the type of business you run.

Programmable Digital Message Centers
If you want a more modern look, you can skip the LED signs or illuminated channel letters and opt for our programmable digital message centers instead. They are popularly used for advertising among many businesses due to their convenience and cost-efficiency.
These digital message centers come in LED displays that can be programmed whenever you need to. If you have some new products to promote, you can simply update them and eliminate the need for new signage installation. This can save you a lot of money, especially if you frequently have new offers or events in need of communicating with the public.
You can choose among different sizes, shapes, and display options—depending on your budget, available space, and desired look. You can also choose whether you want a static or moving message.

Full-Service LED Sign Company
If you want a signage company that values your business's success almost as much as you do, Axe Signs & Wayfinding is the right place to be. We have been in the signage-making industry for so long, giving the best signage solutions to hundreds of businesses in order to help them achieve their marketing and messaging goals.
Whether you need indoor or outdoor lighted signs, we have the skills and equipment to deliver them to you with the utmost quality possible. Our designers will ensure that your illuminated signs will make your brand memorable and your establishment more prominent than your surrounding competitors.
Additionally, we have expert manufacturing and installation teams who can fabricate and secure your signage in place in the most accurate and efficient way possible. Every detail you want will be perfected in your lighted sign while ensuring that the materials we use suit your location, budget, and intended aesthetical appeal.

Free Lighted Sign Consultation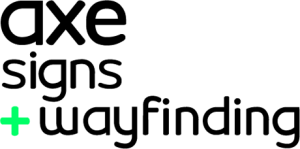 When it comes to improving a business's visibility, San Mateo lighted signs can do the job better than any other signage. So whether you are in a not-so-favorable location or you simply need to stand out from your competitors, Axe Signs & Wayfinding can provide you with the best-illuminated signage to help with your goal.
From outdoor to indoor messaging purposes, our lighted signs are guaranteed to make your business captivating and increase your sales in the process. More importantly, we can tailor any kind of lighted sign that you want in order to make them fit your brand, business personality, location, and budget.
Call Axe Signs & Wayfinding today at (650) 405-3953 for your Free Consultation with a San Mateo Lighted Sign Specialist!