San Mateo Indoor Signs
View Indoor Sign Gallery
Getting someone interested is not enough. You need to find a way for them to stay—this is true for any business. At Axe Signs & Wayfinding, we provide San Mateo indoor signs that will live up to the expectations set by your inviting and promising exterior signage.
As much as you need an attractive storefront to hook your target market, you need to extend the professionalism inside your facility. Choosing the best indoor sign to complement your outdoor signage will boost good customer perception and give you a cohesive signage collection that reinforces your brand.
Our signage experts at Axe Signs & Wayfinding are skilled at creating all types of indoor signs that you may need for your specific business. Whether you want to highlight your business offers or to utilize wayfinding and warning signs to assist your customers and employees, our team can design, manufacture, and install the perfect signage for your needs.
If you're not sure what type of indoor sign to get or you haven't got a solid design yet, our sign experts are here to guide you. Tell us what your goals are, and let us give you a functional, creative, and durable indoor sign that's tailored just for your business.
Call Axe Signs & Wayfinding at (650) 405-3953 for your Free Consultation!
Interior Signage For Office Buildings
If you want a more efficient workplace, Axe Signs & Wayfinding can provide you with San Mateo indoor signs for your office building. Whether you're one of a building's many businesses or your building has several different offices, we have the right interior signage to help make your office more visitor- and staff-friendly.
Instead of relying on your receptionist to guide your guests all the time, you can use some wayfinding signs to help them navigate the building without needing anyone to guide them personally. This way, your receptionist—and other staff that they may ask help from—can do more productive tasks.
Axe Signs & Wayfinding is skilled at manufacturing and installing various indoor signs. From room identification to warning signs, we know how to properly design and place them for maximum visibility and effectiveness.
Aside from providing useful information, installing interior signage will also reinforce your brand within your office. If you want to create a more professional look that still speaks your brand in every corner, we can provide you with wall murals, floor graphics, and logo signage. You can even use them to showcase your business history and offerings to clearly display what your brand is all about.
If you want a highly cohesive signage collection but no idea where to start, our indoor sign experts at Axe Signs & Wayfinding will help you combine different signage elements for your office building.
Retail & Restaurant Indoor Signs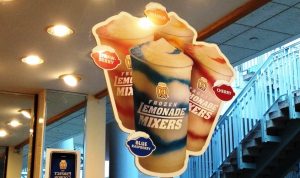 Axe Signs & Wayfinding understands that when you're running a retail store or a restaurant, indoor signs are especially useful in highlighting your products. However, when you decide to work with us, we can provide you with more than just attractive promotional tools.
Your customers will find your establishment more appealing with wayfinding signs and other informational signage that all work together to effectively reinforce your brand. Exit signs, bathroom signs, wall murals, and floor graphics are wonderful additions to your interior's aesthetics that can provide vital information at the same time.
Whether you need menu boards, hanging banners, or product displays, Axe Signs & Wayfinding can design, create, and install all of these while keeping your branding guidelines in mind. We will use all the appropriate colors, fonts, and images within your indoor signs and strategically place them in all the right places. This way, we can ensure that you maximize your space to strongly build your brand while promoting your products.
Signs for Warehouses & Manufacturing
Although warehouses and manufacturing facilities aren't open to the public, indoor signs are still very useful for other purposes.
With our indoor signs and vinyl graphics, you can put up safety and wayfinding signs to help promote an efficient workspace for your employees. Wall murals and other vinyl graphics will also allow you to add aesthetics to your place while providing key business information—brand history, company vision, and other corporate messaging. Also, you can use indoor banners to congratulate someone or celebrate a business milestone.
For any goals or purposes, Axe Signs & Wayfinding can customize the best indoor sign for your warehouse or manufacturing plant. We will help you develop a much safer working environment, raise morale for your employees, and generally promote efficiency in your working space.
Cohesive Interior Signs for Business
Effective brand-building is driven by a cohesive signage collection. At Axe Signs & Wayfinding, we can provide you functional indoor signs that will complement your exterior signage and all other graphics in and around your establishment.




Our design team will be careful in creating a signage plan that will get your marketing and corporate message across your target market. We will ensure we utilize all the right colors, fonts, and images in all your signage to make your brand impossible to forget.
Whether you already have an existing signage design or want us to create a new one, trust that Axe Signs & Wayfinding will provide you with an indoor sign that complements all your other signage both in design and effectiveness.
Every Indoor Sign Your Business Needs!
When it comes to durable, attractive, functional, and cost-effective San Mateo indoor signs, Axe Signs & Wayfinding is arguably the best service provider you can work with. Skilled at fabricating all kinds of signage, there is no shortage of what you can do with your signage projects. With our wide array of signage choices, we are confident that you will find the best indoor sign for your specific goal.
Based on business type, brand personality, location, business goal, budget, and signage project timeline, our team will expertly give you appropriate recommendations on what type and material will do your business best. We will also help identify what signage style, size, and design will perfectly fit your facility.
Whether you own a retail store or run a manufacturing plant, Axe Signs & Wayfinding will give you a functional indoor sign that will help you reach your goals. Our sign experts know what every business needs and will understand the details of yours, ensuring that our suggestions will save you time and money upfront and in the long term.
You can choose among the following indoor signs and graphics:
Axe Signs & Wayfinding also provides exterior signs that will complement your indoor signs for better brand building. We will even customize any type of signage for you, permanent or temporary.
Full-Service Interior Sign Manufacturers
For an all-around service with a quality you won't regret, Axe Signs & Wayfinding is the best San Mateo, CA indoor sign company to work with. With our skills, knowledge, experience, and resources, not a dime of your signage investment will be wasted. We will make sure that as much as our indoor signs are cost-efficient, they are effective in their respective purposes.
Our design team will have no problem creating an entirely new design for your signage or work with your other existing signs to make sure they are cohesively done. Based on the information you will give us on our free consultation, including the ones we gather once we evaluate your location, we will create a mock design that you can edit to your liking.
When you're already satisfied with your signage's projected look, our manufacturing team will start turning it into reality. Using top-grade material, state-of-the-art equipment, and environment-friendly methods, you can ensure that your indoor signs will be durable and even reusable. These signs will then be securely and meticulously installed without any mess or sort of inconvenience for you.
Even better, we also cater to all your indoor sign repair, replacement, and removal needs. All you need is to give us a call, and we will be there to provide effective signage solutions for all your business goals!
Free Expert Indoor Sign Consultation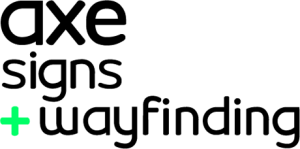 Regardless of your business type or industry, the need for functional yet economical interior signs cannot be denied. Whether you want attractive menu boards to showcase your products or visible wayfinding signs to passively assist your clients, Axe Signs & Wayfinding knows how to achieve your goals with ease.
If you have no idea how to execute the vague signage plan you have in mind, our indoor sign experts will gladly help you out. We can help you come up with a unique design that sticks to your branding guidelines, choose the signage style that works best for your goal, and determine the proper placement to maximize visibility and interior spaces.
You can't settle for less if your want your business to grow. Work with the best indoor sign provider today and see your goals being reached.
Call Axe Signs & Wayfinding at (650) 405-3953 for your Free Consultation!