San Mateo Channel Letters
View Channel Letter Gallery
Signage will always play a huge role in leading your business to success. From your outdoor to indoor signs, you should pay attention to how effective they are in attracting potential customers and getting your message across. For this purpose, one of the most favored signage types is channel letters.
As a leading provider of business signs, Axe Signs & Wayfinding manufactures and installs San Mateo channel letters on a regular basis. They are among our most in-demand products that fit the durability and versatility preferences of various business owners.
Any letter, number, symbol, or logo can be easily crafted out of dimensional and channel letters. We can customize them to match any brand or business personality. Your target market, budget, and designated signage location will also be considered as we design and create your business signs.
Invest in our eye-catching and durable channel letters. From their fonts and colors to their lighting method and mounting style, we will ensure the highest possible quality for the products that fit your marketing needs and aesthetical preferences.
Call Axe Signs & Wayfinding at (650) 405-3953 for your Free Consultation with a San Mateo Channel Letter expert!

Storefront Channel Letters
Whether you are building a new business or you simply want a show-stopping transformation for your storefront, you'll get the most out of your money with our premium crafted channel letters.
Given their 3D appearance and ability to incorporate inner lighting, San Mateo channel letters make an attractive, highly functional storefront sign. They can catch people's attention even from those who are still a distance away. When designed right, they can also effectively let you outshine your surrounding competitors.
Channel letters give your business a professional look while keeping an aesthetical aspect to them. They can be fully customized to fit your preferred look by choosing from a wide range of available fonts, sizes, shapes, and colors. Our in-house designers will even help you decide to ensure the maximum impact of your signage.
Storefront channel letters can stay functional 24/7 with the use of inner LED lighting. And if you want to achieve the most appealing result, you can install them through direct mounting. However, if you want to reduce the installation time and needed penetrations, raceway-mounted channel letters will work best for you.
Channel letters can be used by any business or establishment that wants to look best for their potential customers and visitors. This includes shopping centers, retail outlets, restaurants, cafes, and even government and school buildings.
Dimensional Letters
Dimensional letters are often confused with channel letters. Although similar in more ways than one, these two vary in their capacity for illumination. Dimensional letters, albeit 3D, don't have a hollow inside that allows for inner lighting. However, you can still use LED backlighting or face-lit translucent acrylic faces to illuminate your dimensional letters.
Like channel letters, dimensional letters are also individual signage elements that boast durability and versatility. They, too, can be shaped into any letter, number, symbol, logo, or image that you want. You can use them both indoors and outdoors without worrying about having to replace them real soon.
Dimensional letters can be made out of various materials, such as acrylic, aluminum, brass, bronze, copper, Cor-Ten steel, foam, metal, plastic, and stainless steel. If you want to know more about your design options, don't hesitate to talk to our San Mateo channel letter experts.
Dimensional letters fit any building, whether for business or offices. Manufacturing plants, salons, food outlets, and practically any other facility can benefit from installing dimensional letters.
Backlit & Illuminated Channel Signs
If you run a convenience store, bar, or any business that operates 24/7 or only at nighttime, Axe Signs & Wayfinding can provide you with illuminated channel letters. We utilize LED lighting for this type of sign since LED proves to be superior in performance—being able to stay clear and bright during daylight and especially at night.
Illuminated channel letters will help you increase your traction regardless of the time of the weather outside. Your storefront will always stay visible and can invite people in without fail. More importantly, since we use LED for the lighting, you won't have to shell out too much money both upfront and in the long run.
LED lighting is cheaper to purchase and consumes way less energy compared to other lighting options. It fits well whether you want front-lit or backlit channel letters. Even better, you can use multiple colors for your lighting if you want!
Backlit channel letters are perfect for 24/7 businesses and those only open at nighttime, such as gasoline stations, convenience stores, movie theatres, bars, restaurants, and malls.
Free Channel Letter Sign Consultation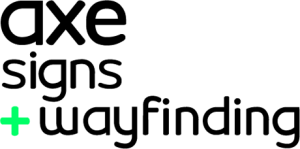 Looking for a cost-effective business sign that will attract as many customers as possible for a long time? Our San Mateo, CA channel letters will certainly fit the bill!
Axe Signs & Wayfinding has in-house designers who can help you conceptualize the best signage for your business. Whether you need an outdoor or indoor sign, we guarantee a high-impact design that will reinforce your brand and effectively market your goods and services.
Discover all your signage options today!
Call Axe Signs & Wayfinding at (650) 405-3953 for your Free Consultation with a San Mateo Channel Letter expert!