Mountain View Business Signs
View Business Sign Gallery
For your business to become successful, you can't just settle with a boring storefront and a monotonous interior. If you want to attract more customers and compel them to return and patronize your business, you need business signs that creatively build your brand and showcase your products and services.
At Axe Signs & Wayfinding, we design, manufacture, and install all kinds of Mountain View business signs. We cater to all types of businesses regardless of the industry they're in. When you choose to work with us, we will do our best to understand your goals and preferences in order to give you the best business sign that looks and functions the way you want.
Armed with all the appropriate tools and resources together with our experience, skills, and knowledge, our whole team is dedicated to providing you with the perfect signage for any purpose you have in mind. From outdoor to indoor signs, we are here to help your business maximize its advertising reach and gain loyal customers for a long time.
Call Axe Signs & Wayfinding at (650) 405-3953 for your Free Consultation!
Cohesive Commercial Signs
A business cannot survive without utilizing signage to introduce its brand. No matter how small your business is, you have to invest in at least a simple signage to let people know you exist and that you have something unique to offer that's worth checking out. And once you decide to do this, you need to this right.
It doesn't matter what type of business you're running or what business goals you want to achieve next. In acquiring commercial signage, you need to go for a cohesive collection that will effectively make your brand impossible to forget. At Axe Signs & Wayfinding, we create Mountain View business signs that are fully customizable to cater to your branding guidelines.
Should you decide to have us supply you with all your signage needs, we will make sure that all your signs will work together in providing relevant information, promoting products or services, and reinforcing your brand. We will note the colors, fonts, images, and texts that are part of your brand and consistently refer to them as we design your various business signs.




From your brand-building storefront signs to your promotional indoor signage, rest assured that all of them will be properly designed, manufactured, and installed. We will even help you choose which sign type, style, size, height, and placement will work best for you in order to give you something that meets your expectations and functions in the way you wish it would.
Complete Business Signage
When it comes to marketing your business, you need to be extra creative to grab your potential customers' attention. If you're surrounded by similar service or product providers, you have all the more reasons to look for the perfect storefront sign to let your brand outshine the others.
At Axe Signs & Wayfinding, our Mountain View, CA business signs are designed by experts in the sign-making industry. We know precisely how to tailor your signage according to your brand, purpose, and other personal preferences. All your ideas are welcome, if not greatly appreciated. They will allow us to understand what design will satisfy you most. However, we don't just do this for eye-catching exterior signage. Our business signage services extend to the equally important indoor signs and graphics.
To maximize your space both for advertising and brand building, you need quality business signs outside and inside your facility. Axe Signs & Wayfinding can give you all types of signage whether you'll use them outdoors or indoors.
From permanent solid structures like monument signs and pole signs to temporary promotional tools like hanging banners and window graphics, we are equipped to provide you with business signs that meet your needs.
Our business sign services include the following:
Once you talk to our experts explaining what you want to achieve for your business, trust that we will deliver signage solutions in the most efficient way you could ask for. Whether you need outdoor or indoor business signs, our team will develop a signage plan that will best help you reach your goals.
Free Business Sign Consultation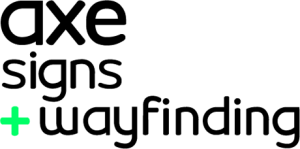 The importance of Mountain View business signs can maybe equate to that of the quality of your service or product. After all, no one would be interested enough to give your business a chance if you haven't marketed it the right way.
To captivate your potential customers' attention, you need to invest in cohesive business signs that are durable, creative, and cost-efficient. Axe Signs & Wayfinding is a dedicated signage provider that will listen to your needs and come up with the best design and structure applicable for your signs. Even better, we promise quality at a reasonable price!
Call Axe Signs & Wayfinding at (650) 405-3953 for your Free Consultation!